Conveniently Located off Exit 343 on I-94 in West Fargo
1220 Main Ave W
West Fargo, ND 58078
Located in West Fargo across from the Red River Valley Fairgrounds, just off I-94 Exit 343
HOURS
Closed Dec 24 - Jan 2
We are a Fargo RV Dealer conveniently located in West Fargo, ND.
RV Dealer Near Me
About Us
FAMILY OWNED.
FAMILY VALUES.
Adventure RV is located in West Fargo, ND and began in 1987 at WestGo Square offering great values to camping families.
Today, Adventure RV Center gives you personal service as you shop for your next RV! We are a family owned and operated RV sales and service dealership located in West Fargo, ND and carry a full lineup of fish houses, fifth wheel, travel trailer, toy haulers, and many other units.
We are a Fargo RV Dealer conveniently located in West Fargo, ND.
Water Heater Anode Rod 101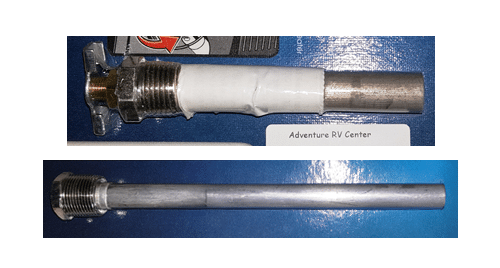 Our service and parts departments field many questions regarding Water Heater Anode Rods. In order to lessen the confusion caused by this important part let's go through was its use is.
The Anode Rod is what's known as a sacrificial element.  The rod will corrode away as a byproduct of electrolysis.  The rod corrodes instead of the water heater tank.  That's why it's so important to check this part every couple of months.  When you can see the core of the rod it's time to replace it.
Suburban water heaters have a steel tank and use a large size rod (9.5 Inch).  Atwood water heaters have an aluminum tank and usually don't need one, but one can be used for extra protection, this is where the smaller one would be required (4.5 Inch).
When replacing the rod it's important to flush out the tank at the same time.  Using a fill wand attached to your garden hose be sure to flush out any loose settlement out of your tank before replacing the Rod. 
If you have questions or are uncomfortable servicing your Anode Rod we encourage you to contact our service department at (701) 277-1165.