Conveniently Located off Exit 343 on I-94 in West Fargo
1220 Main Ave W
West Fargo, ND 58078
Located in West Fargo across from the Red River Valley Fairgrounds, just off I-94 Exit 343
HOURS
Closed Dec 24 - Jan 2
We are a Fargo RV Dealer conveniently located in West Fargo, ND.
RV Dealer Near Me
About Us
FAMILY OWNED.
FAMILY VALUES.
Adventure RV is located in West Fargo, ND and began in 1987 at WestGo Square offering great values to camping families.
Today, Adventure RV Center gives you personal service as you shop for your next RV! We are a family owned and operated RV sales and service dealership located in West Fargo, ND and carry a full lineup of fish houses, fifth wheel, travel trailer, toy haulers, and many other units.
We are a Fargo RV Dealer conveniently located in West Fargo, ND.
5 Best Travel Trailer Models for a Beginner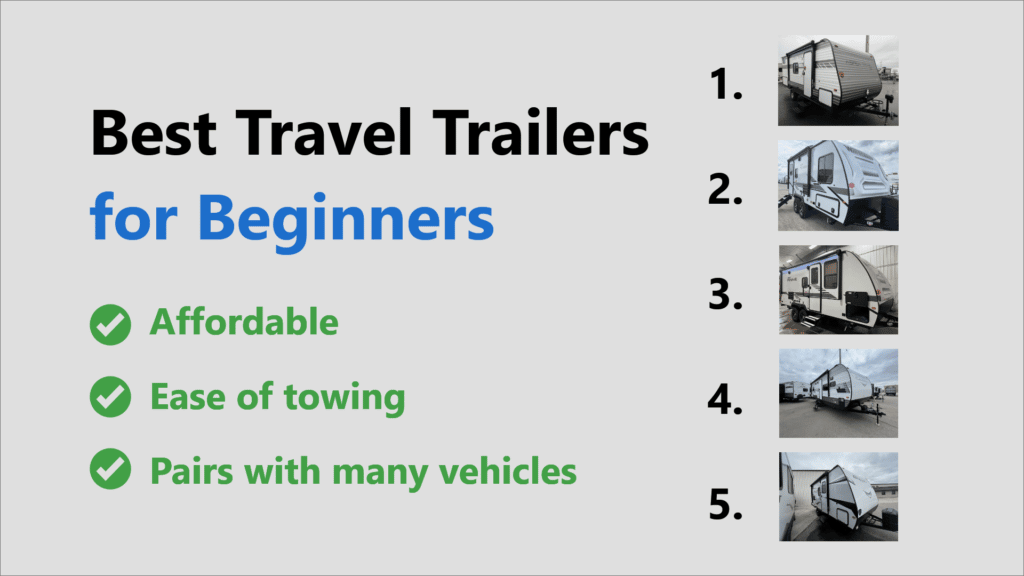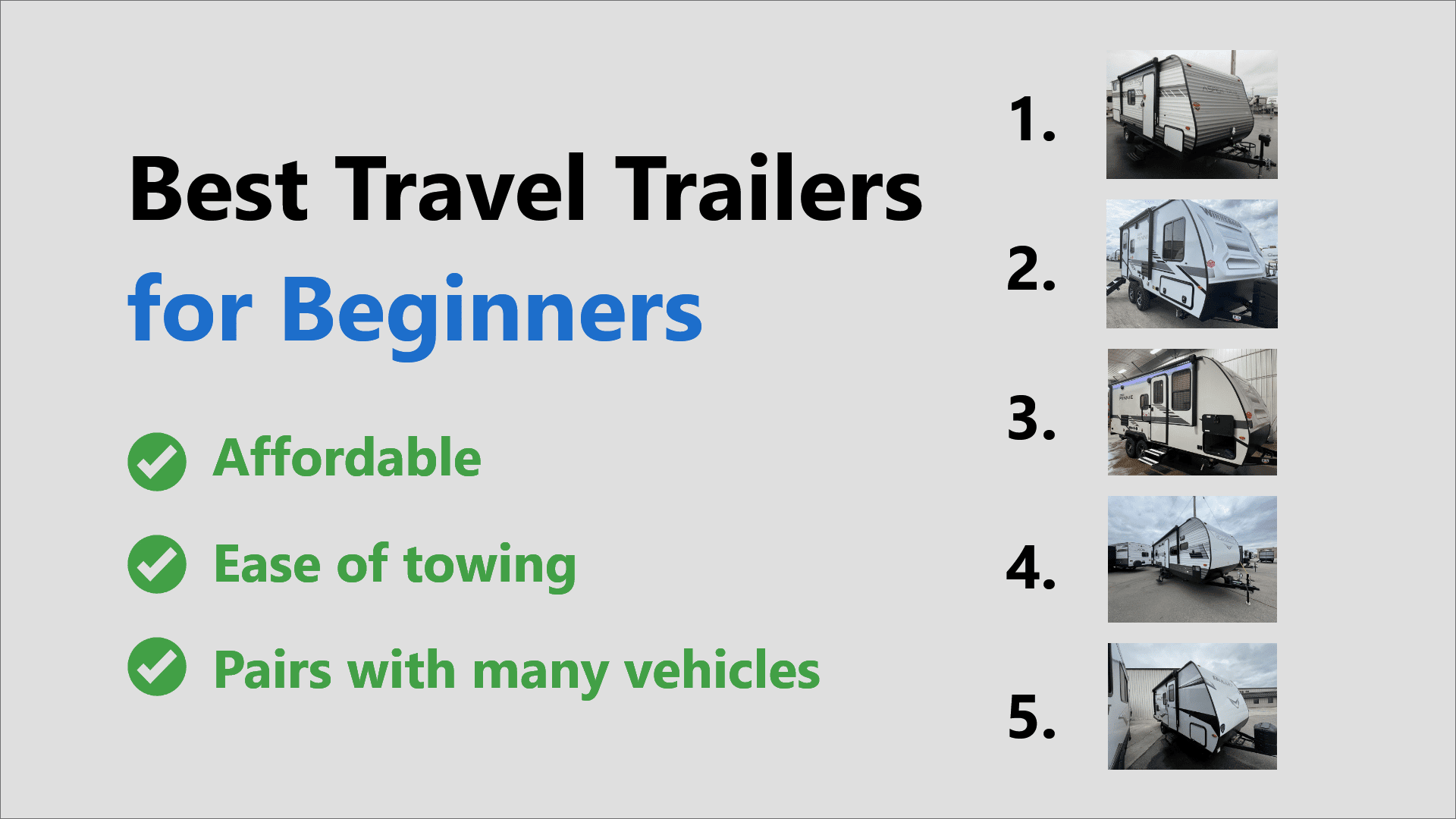 So, you are interested in owning an RV or camper…but aren't 100% sure where to start.
Does this sound familiar?
You are sick of tent camping and want a shower, A/C, and a real roof over your head.
You are looking for a camper for work and travel.
Your friends are getting into RVing and you want to tag along.
You went RVing with your parents, but have no idea where to start on your own camping journey.
You are in the right place.
We will explore why a travel trailer RV is a great choice for beginners, what characteristics to look for, and five travel trailer models to consider. We want to arm you with the information you need to make the best possible decision.
Keep reading.
Why travel trailer RVs are ideal for beginners
Of all the various RV classes, the travel trailer is the best class for those who are just getting into RVing and camping.
There are three primary reasons for this.
Affordability – These are the most affordable forms of an RV when compared to motorhomes and fifth-wheels. You can pay cash for an RV, but most beginners usually finance their RV purchase. Travel trailers allow you to get an RV for a relatively low monthly payment (generally between $250 to $325 per month).
Ease of towing – Towing is a skill you will need to learn when you purchase an RV. Travel trailers are usually smaller and easier to maneuver compared to larger 5th wheels and Class A motorhomes.
Pairs with many vehicles – Travel trailers are able to be towed by smaller vehicles. This means you can often use your existing vehicle, rather than having to buy an additional truck to pull your unit (as you would with a fifth-wheel RV).
What characteristics of a travel trailer RV should a beginner look for?
Compatibility with your current vehicle's towing capacity
The #1 question you ask at a dealership is, "Can I tow this RV with my current vehicle?"
There are two metrics to look at when assessing your vehicles towing capacity:
Gross towing capacity (how much weight you can physically tow)
Expected traveling destination (on-road, off-road, city, country roads, mountains, etc.)
Gross towing capacity – You should be able to find this information in your vehicle's user manual OR you can give the car dealership a call and they will have that information for you. Be sure to have your vehicle identification number (VIN) when you call.
Write down your vehicle's towing capacity and bring it to the dealership.
Expected traveling destination – Are you planning to primarily visit state parks in your area? Do you want to visit out-of-state relatives? Will you encounter mountains or off-road areas? Getting an idea of your future trip plans will give your salesman a better idea of which campers to show you. Suspension system, tires, aerodynamics, and weight will all be considered.
Example: let's say you have a Chevy Traverse. It can pull 5,000 pounds. It's best to look for a travel trailer with a dry weight of under 4,500 lbs. This will give you room for gear, bikes, luggage, food, etc. when traveling, and you will not be overweight.
Think about the most likely trips you will take in the next 5 years. Write these down and bring them to the dealer.
Correct sizing for the family next 5+ years
Remember, you will have this RV for many camping seasons. It's important to not only think about how much space you need for this coming camping season, but how much space you need in the next 5+ years.
Does this RV model have enough sleeping space?
Will I have enough room for growth if my family expands in the next few years?
Always have a little bit of leeway for family growth.
Opt for features that make RVing simple
Since you don't have an extensive amount of RVing experience under your belt (yet), you want to look for features that will make your camping experience smooth, easy, and simple.
Why?
If you get frustrated with your equipment, it will put a damper on your vacation and will make you avoid camping in the future.
Don't let this happen to you.
A handful of considerations for easy setup, towing ability, and use:
Do you want a power tongue jack on the front? A tongue jack is what raises and lowers the camper. Power tongue jacks make it easy to get the RV on-and-off your vehicle.
What kind of jacks do you want for stabilizer jacks? Stabilizer jacks are supporting hoists that are on either side of the travel trailer to ensure it does not tip or rock when your family is inside. Some models have power jacks, others have manual jacks. Be sure to ask about both.
Do you want an outside shower? (Perfect for getting sand off your feet or washing the dog)
Best models for beginners
We had the Adventure RV sales team give us their opinion on what they believe are the best travel trailer models for beginners. They looked at each from the perspective of the RV being (a) entry-level and (b) easy to use. They landed on a top 5 list.
1) Aspen Trail 1950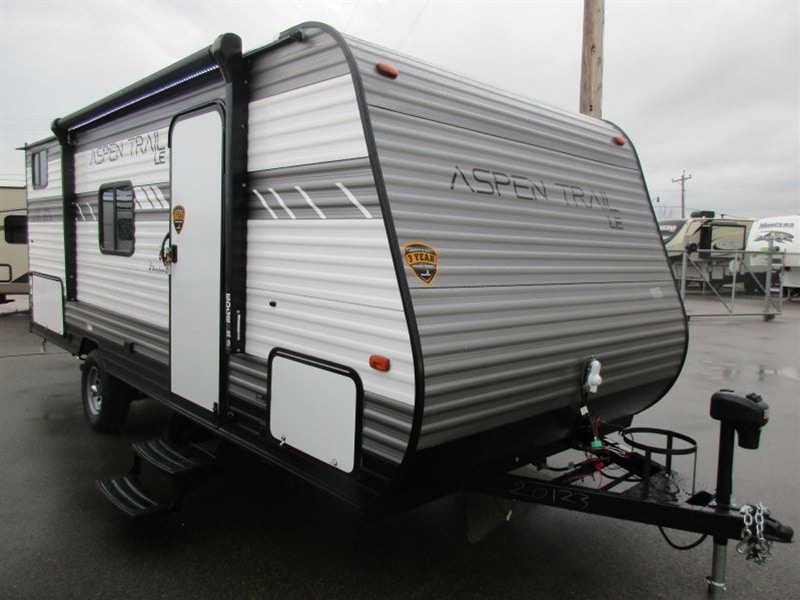 Length – 23'5"
Weight – 3,896
Sleeps – 4?
What makes it great for the beginner:
This model has a power tongue jack and electric stabilizer jacks to make your job much easier when hooking up the unit to your vehicle. Aluminum siding keeps the price lower when compared to other units. Since this is a "bunkhouse" model, there are bunk beds to help sleep more members of your family.
2) Winnebago MicroMinnie 1808FBS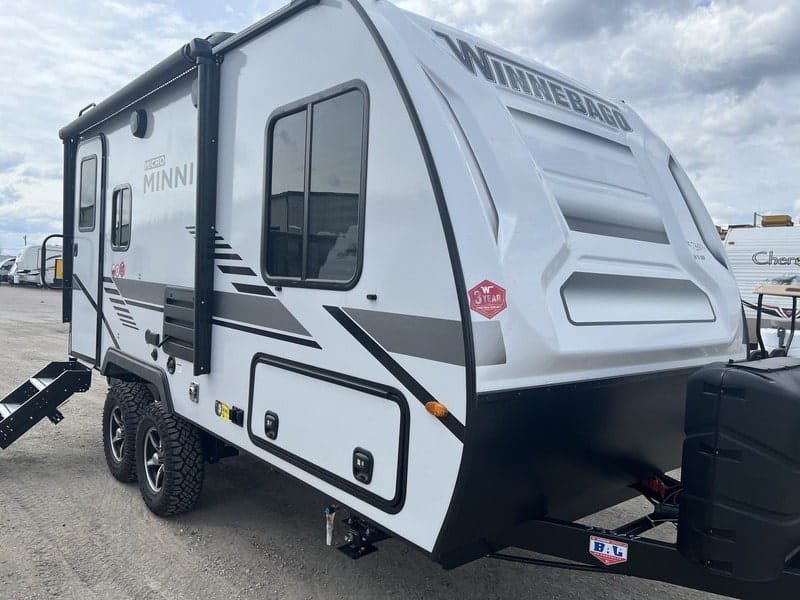 Length 20'0"
Weight – 3,750
Sleeps – 2
What makes it great for the beginner:
The Winnebago MicroMinnie RV model is a very popular choice among our customer base. It is one of the lightest models on this list, making it ideal if you have a smaller vehicle or SUV. A power tongue jack makes it very easy to connect and disconnect. If you plan to work from your RV, this model has a large dinette area that can double as a desk.
3) Winnebago MicroMinnie 2108FBS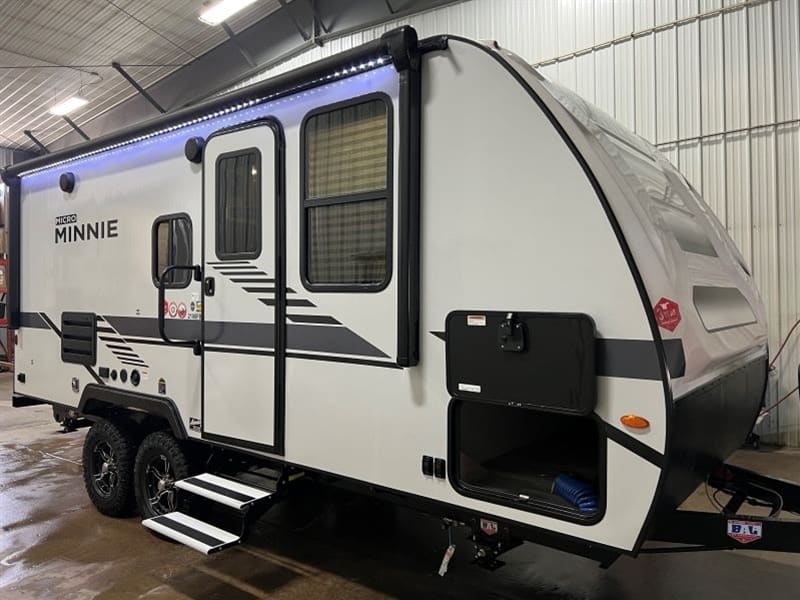 Length – 22'7"
Weight – 4,000
Sleeps – 2
What makes it great for the beginner:
This is a slightly longer version of the Winnebago MIicroMinne, so you get a little more space inside. There is a "torsion axel" which makes it a much easier ride when you are pulling the RV for a long distance.
4) Sportsman 231FKSE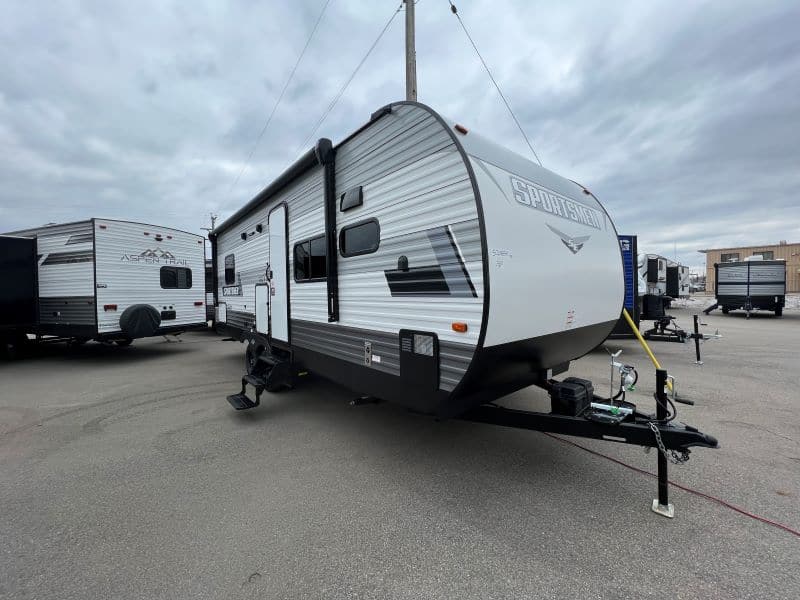 Length – 27'5"
Weight – 5,370
Sleeps – 2
What makes it great for the beginner:
This could be a great option for those planning to live or work semi-long term in their travel trailer. It has a massive kitchen, allowing you to prepare complex meals from your unit. A walkaround queen bed makes it easy for you to get in and out of bed without having to crawl from the foot of the mattress. This travel trailer is on the heavier side, so you will have to see if your vehicle can handle the load.
5) Bullet Crossfire 1700BH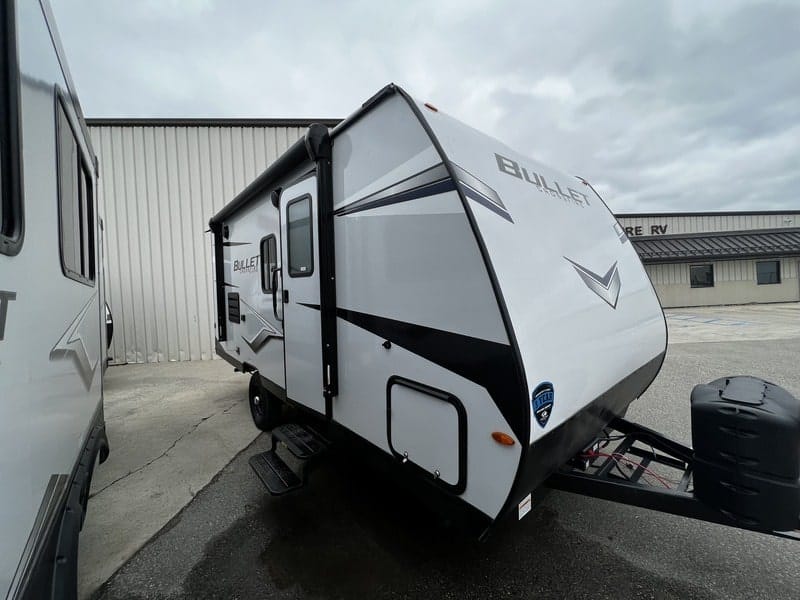 Length – 21'4"
Weight – 3,700
Sleeps – 4-6
What makes it great for the beginner:
This is a unit that can sleep between 4 and 6 people, making it an excellent value if you have a larger family. for the cost. Since this is also a lightweight unit, you will be able to pull this with a smaller vehicle.
Conclusion
It can be intimidating trying to pick an RV or camper if you have little experience. Travel trailers offer a great mix of affordability, ease of use, and vehicle adaptability, making them perfect if you are just getting started. Be sure to talk to your dealer about your vehicle's towing capabilities and what trips you intend to take in the future. This will make it a better shopping experience.