Conveniently Located off Exit 343 on I-94 in West Fargo
1220 Main Ave W
West Fargo, ND 58078
Located in West Fargo across from the Red River Valley Fairgrounds, just off I-94 Exit 343
HOURS
| Ninja Column 1 | Ninja Column 2 |
| --- | --- |
| Mon | 8:00 am - 4:30 pm |
| Tue | 8:00 am - 4:30 pm |
| Wed | 8:00 am - 4:30 pm |
| Thu | 8:00 am - 4:30 pm |
| Fri | 8:00 am - 4:30 pm |
| Sat | Closed |
| Sun | Closed |
Closed Dec 24 - Jan 2
We are a Fargo RV Dealer conveniently located in West Fargo, ND.
RV Dealer Near Me
About Us
FAMILY OWNED.
FAMILY VALUES.
Adventure RV is located in West Fargo, ND and began in 1987 at WestGo Square offering great values to camping families.
Today, Adventure RV Center gives you personal service as you shop for your next RV! We are a family owned and operated RV sales and service dealership located in West Fargo, ND and carry a full lineup of fish houses, fifth wheel, travel trailer, toy haulers, and many other units.
We are a Fargo RV Dealer conveniently located in West Fargo, ND.
New Fish Houses at Adventure RV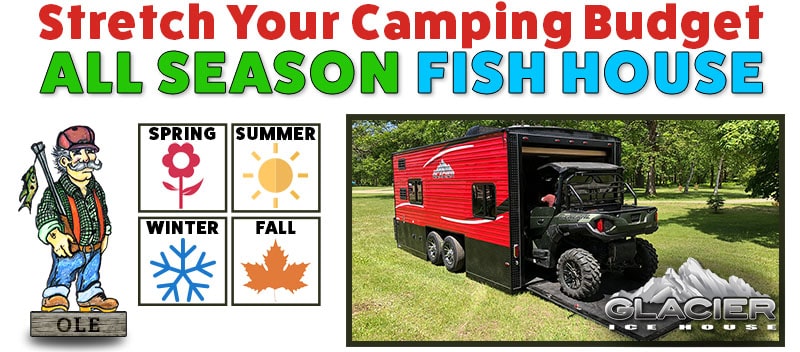 These Minnesota built ice houses feature upgrades to provide durability in all seasons.
Glacier's goal is to build only the highest quality ice fishing shelters, constructed of premium materials that will provide lasting value and years of trouble-free service. See for yourself how their attention to detail and never-ending commitment to product improvement sets a Glacier Ice House apart from the competition and makes a Glacier Ice House "The Ultimate Way to play!"
To battle the endless "melt and freeze" cycles that can cause inferior roofing system to leak, Glacier Ice Houses are constructed with the strongest and most reliable trussed roofing system on the market today. All Glacier Ice Houses feature a weather-sealed, seamless-rubber, trussed roof constructed of 3/8" plywood. Compare that with the competition.
Stunning Cedar Interior
Trussed Roof on 16' and larger
Seamless Rubber Roof
3/4" Marine Grade Plywood
Dual Axle with 1800 LB Cargo Capacity
(2) 30lb. LP Tanks with Gauges
30K BTU Forced Air Furnace
R-Value: R-18
Built in Minnesota
Purchase a Glacier Ice House and sit back and enjoy the fishing in your comfortable and feature rich fish house!
Overall Length: 19'
Original Price:
$30,519.00
Ole's Price: $23,997.00
Hail Discount: -$1,200.00
Hail Sale Price: $22,797.00
Parts We Carry In Stock Everyday!
Kitchen Parts
Cabinet Replacement Parts
RV Appliance Replacement Parts
RV Bathroom Replacement Parts
RV Living Room Parts
RV Electrical Replacement Parts
RV Sanitation & Sewer Replacement Parts
Awnings & Lighting
Outside Camping Accessories
Patio & Garden
Outdoor Rugs
Outside Tables
Outdoor Chairs
Grills
Outdoor Lighting
Outdoor Electrical Supplies
Canopies
Tools
Jacks & Leveling Accessories
RV Shocks & Stabilizers
RV Wheels & Tire Accessories
RV Automotive Parts & Fluids
RV Automotive Accessories
RV Kitchen Appliances
Bath Supplies
Bedroom Accessories
Upgraded RV Mattresses
Camper Electronics & Gadgets
RV Floor Coverings
Durable RV Furniture
Camping Generators
RV Lighting & Electrical
Camper Home Decor
RV Kitchen & Dining Accessories
RV Laundry & Accessories
RV Sanitation & Sewer Accessories
Window Treatments
Trailer Towing Parts
Hitches
Equalizer Hitches
5th Wheel Towing Hitches
Vehicle Towing Dollies
Tow Mirrors
Backup Cameras
RV Utilities & Maintenance
RV Chemicals, Cleaners & Sealants
RV Fresh Water System Accessories
RV Hardware & Maintenance
RV Heating & Cooling
Propane (LP) Tanks & Accessories
Propane Covers
RV Covers
RV Steps & Ladders
RV Storage
RV Sewer Parts
RV Covers
Batteries & Cables
Tools
GPS & Navigation
Satellites & Receivers
Antennas
WiFi Systems & Cell Phone Boosters
DVD/Bluetooth Stereo equipment
Indoor & Outdoor Speakers
RV Alarms
RV Backup Camera Systems
Tire Pressure Monitoring Systems
RV Parts & Accessories Brands
Atwood
Blue Ox
Camco
Catch Cover Ice Fishing Accessories
Carefree
Equalizer
Lippert
Reese
Shurflo
Suburban
Thetford
Valterra
Winegard
ADCO
Anderson Hitches
A.P. Products
BAL
Bio-Kleen Products
Bargman
B & W
Camp Casual
Coleman – Mach by Airxcel
Cummins
Dicor
Dometic
Eternabond
Fan-Tastic Vents
Fastway
Faulkner
Flojet
Furrion by Lippert
Heng's
Hopkins
ICON
JR Products
King Controls
Kwikee
LaSalle Bristol
Magic Mounts
Marshall (MFC)
MaxxAir
Norcold
Oxygenics
Parallax
Prime Products
Prest-O-Fit
Progressive International
Reese
RV Designer
Safe-T-Alert
Sea Tech
Stromberg Carlson
Swagman
Tekonsha
Thetford
Tri-Lynx
Ultra Fab
Valterra
Ventline
Voyager
Xantrex